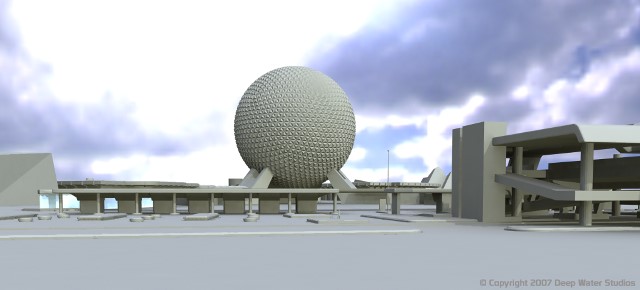 I've picked up the EPCOT Center project after a much too long hiatus. As this project was started when I had much less 3d modeling experience, there are some mistakes to correct. I've been spending the last week cleaning up the meshes around the entrance to the park and the monorail station.
I'm planning to spend a good deal of my free time (read: 9pm-midnight a couple nights a week) working on the model and getting it up to speed. My goal is to recreate EPCOT Center circa late 1983. (Right after Horizons opened)
As I get more sections of the park completed, I'll post renders here and on Themed Attractions. If you notice something that isn't correct to the circa 1983 EPCOT Center, please let me know. I want to make this model as accurate as possible as it has another use (or two) in the future. And by all means, if you have access to any media, drawings, photos, info etc detailing the appearance, layout, etc of the early days of EPCOT Center, please pass me a copy. I could always use more reference material.