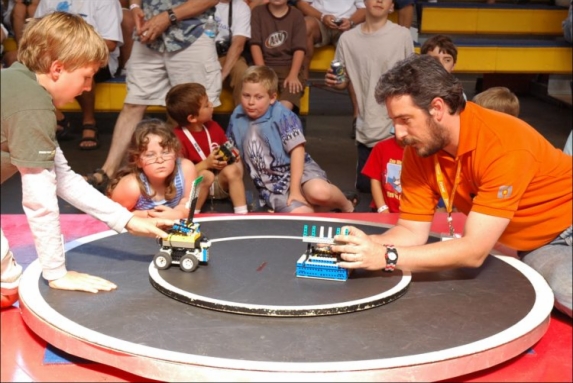 MYTECYSN3KT2
You've heard of the Pepsi Refresh Project right? Here's one of the projects aimed at helping our school age kids get a leg up in technology.

[blockquote]The Robotics Society of America has an active entry in the PepsiRefreshProject that needs your votes! The Pepsi project gives away millions (US Dollars) to worthy causes funding great ideas to "refresh the world." That might sound a little corny, but their heart is in the right place, and the causes are certainly worthy of your support.
The Robotics Society project is designed to teach middle school girls, and boys, about robotics with hands-on experience. Assuming that the project is one of the successful winners that get funded, it will culminate next April with the participating students having the time of their lives by actively competing at RoboGames 2012 in San Mateo, California.[/blockquote]
How to Vote
Voting is free and easy and you can do it via facebook, your phone or the Pepsi website http://pep.si/nHlOZZ
[blockquote]RoboGames is up for a $25,000 grant to help bring robotics classes to underprivileged middle schoolers around the San Francisco Bay Area, and
you can help! Pepsi is offering large grants to non-profits such as the Robotics Society (the parent organization of RoboGames), but only the top few ideas will win.
You don't need to give us any money, you just need to vote! Please help us get funding to get more kids building robots for the 2012 games! We are poised to make this a great year for community centers, under funded schools, and a whole slew of other folks with your help! If we win the voting, we can put robots in the hands of about 120 kids and provide them with teachers for a full semester of after-school instruction. All leading up to them competing at RoboGames. The classes will get kids autonomous robots, and teach them how to program and build the robots to compete in multiple events in next April's event.
And neither you nor the kids have to pay a cent!
Here's the link to vote: http://pep.si/nHlOZZ or you can vote by texting 107947 to Pepsi (73774) to vote from your mobile phone.
And you can vote once per day! So vote today, tomorrow, and every day this month!
This will barely take any time at all, but can impact the lives of a lot of kids who'd never get to learn about robotics otherwise. We can inspire them to keep studying STEM (science, technology, engineering and math), and all you have to do is vote!"[/blockquote]
I've voted – are you going to?